We are nearing completion of the first phase of invoicing in Intervals. Intervals will soon include the ability to create invoices, post payments, and track overdue invoices. You will be able to export them, print them, and easily email them to your clients for payment.

Creating an invoice will have two options:
Free Form – include whatever line items you need. For example, "Maintenance Contract" or "Payment 1 of 3".
Prefilled with Work Performed – pull in actual hours tracked in Intervals for a particular project and date range. For example, "Acme, Inc. Web Redesign – all hours worked this month".
Here is how invoice creation looks:


and the invoice details: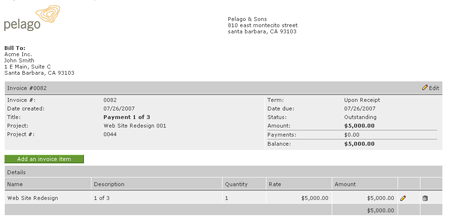 Here is an example of posting a payment:


Invoicing in Intervals will also include notes on invoices and an updated "Outstanding Balance" report so that you can see not only who owes you, but whether or not you need to invoice them again for additional work performed.
The initial feedback has been great and we are eager to get some more final feedback before launching invoicing. If you are a current Intervals customer and are interested in beta testing the feature, please let us know. We always appreciate feedback.