How the Eastern Sierra influenced our company culture
A few days after graduating from college, I found myself and my best friend wandering through the Long Valley Caldera. It was late. The crescent moon had been swallowed whole by the Minarets, leaving the Milky Way in its wake. A warm wind blew up from the south to greet us. I can't tell you exactly where I was, because I don't know. My long-time best friend, Braden, had made me throw out the map somewhere along the 395, in protest to my distrust of the open road. In retrospect, a map would have gotten us to the nearest hotel or camp site, but it wouldn't have gotten us here.
That road trip was 15 years ago — just one of the many treks I've made to the Eastern Sierra since I was little boy. Each trip is its own story. Some are just mine and some I've been lucky enough to share with good friends. When I co-founded Pelago with Michael Payne and Braden Jones, the Eastern Sierra was the one place that played a significant role in all our pasts. So we loaded up Michael's Vanagon and drove to a cabin, perched on the edge of that same caldera, where we would spend the next few days forging a foundation for our company culture, a road map of ideas, principles, and philosophies.
We fished a lot during the trip. We found our best business ideas came from letting our minds wander out loud while wading through chest-deep water to reach a secret fishing hole, awaiting the gloaming alongside the upper Owens River, and chasing browns through the gorge. Ideas that would later become the foundation of our business, an online time, task and project management application dubbed Intervals.
Why we partnered with the Eastern Sierra Land Trust
Becoming a member of 1% for the Planet was dictated by our company's DNA. It just made sense to us, as entrepreneurs, that we would leverage our company's success to help preserve and protect a resource that was pivotal to our personal and collective experience.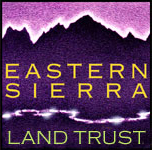 The Eastern Sierra Land Trust exists to  "preserve a healthy balance of uses — from ranching to hiking, wildlife habitats to favorite fishing spots — that can be sustained forever, ensuring a strong local economy and healthy environment for generations to come." As entrepreneurs, we believe a strong local economy and healthy environment are essential to our success. Partnering with ESLT is an extension of this business philosophy, an act of symbiosis. It's more than just donating 1% of our revenues for a write-off, it's an investment in our own future, one where I can take my kids camping and watch them write stories of their own.
Our road map
We still get up to the Eastern Sierra every chance we get, for both company retreats and family fun. We are still helplessly drawn to its mountains, streams, and meadows. We still don't take a map. And, no, we won't tell you the locations of our secret fishing spots. But we will continue to help preserve this precious resource for your benefit as much as our own.
If your small business is interested in donating time or money to the environment, we encourage you to contact 1% for the Planet and ask about becoming a member. They will help you find a partner from their vast network of non-profits.