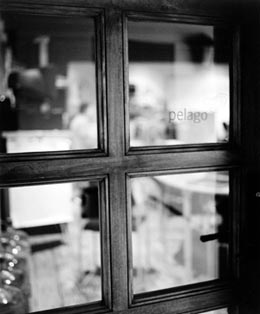 The hiring process at any creative agency is anything but typical. The handshake and the resume don't usually apply. Getting hired onto a creative crew at a design agency is usually a lengthy process involving several interviews and portfolio reviews. Since graduating from design school eleven years ago I've been on both sides of the hiring process. I've been the inductee elbowing for a designer position and I've been the employer hiring on new talent. The following are some lessons I have learned that may help you get hired at a creative agency.
Portfolio, Portfolio, Portfolio
At the very least, post your best work to an online portfolio that you designed. Keep it simple. The idea is to show off your work, not the portfolio. I've received many resumes with no link to online work, only a line reading "portfolio available upon request." An online portfolio is a must, especially if you are applying to a web design agency. Second, I strongly recommend having a physical portfolio and printed samples of your work that you can part with. More traditional agencies will appreciate the care and effort put into a tangible book of your best work. And if you can leave behind samples, that is even better.
Brush up on your knowledge of design history
At the very least, you should be familiar with the work of Paul Rand (You would be surprised how many designers aren't). Skim through a book on the history of graphic design. It really helps a designer to have a historical understanding of their craft. Being able to discuss graphic design history in an interview and with other designers is important because it will give more credibility to your work and make you an all-around better designer.
Approach the creative agencies you want to work at
It doesn't matter who's hiring. An agency's staffing needs will vary from month-to-month depending on many factors, one of them being seasonality. It's a good idea to get in touch with someone at the agency and ask if they wouldn't mind taking a look at your portfolio. Let them know you respect their work and would love if they could spare an hour to give you some feedback on your portfolio. Most will say yes, and if they don't, offer to buy them lunch. This gets your name and work in front of them. The next time they need to hire someone, you'll have a leg up on other applicants. At the very least, you will have established a relationship that may be advantageous to your career down the line. I was once turned down for a design position at an agency whom later became a client of ours, because of that initial portfolio review.
Go freelance first
Every creative agency goes through seasons where they have more work than they can handle and will employ their reserves of freelancers. Letting them know you are available for this type of work is a good move. These moments of increased workload will come without warning and you'll need to be flexible enough to jump on any opportunity they throw your way, otherwise they will call someone else. Freelancing for a creative agency is a great way to strengthen the relationship. When we hire on full-time designers or developers we always hire from our pool of freelancers. Our policy is to only hire people we have worked with previously, people with whom we already have a good relationship. This is one of the best and most common ways to get hired on at a creative agency.
Give the agency some space
You've dropped off your portfolio and resume, you've had an interview or two, now give the agency some space. If they've decided not to hire you, they should let you know. A follow-up call is acceptable and appreciated, but after that it's a good idea to let the agency take their time in making a decision. Pestering them with phone calls will only hinder your chances of being hired.
Keep in touch
If you don't get hired, that doesn't mean the relationship is over. If you sensed any kind of rapport with the agency it is a good idea to keep in touch. There are plenty of ways to do this without being pestering or intrusive. Grab lunch every few months, send a card over the holidays, email announcements about new work you've designed. They'll appreciate the gesture and you never know when an opportunity to work with them might present itself. I used to keep in touch with an environmental designer who had spoke in one of my design courses. When I had the opportunity to design signage for the community waterfront, he was the first person I got in touch with for advice.
The overall goal during any application process is to present yourself and your work as well as you possibly can. Put your best work and your best self forward. Wipe the dust from the corners of your portfolio. Wear some clothes to match the ambiance of the interview. Come prepared, not just to talk about your work, but about design in general. Present yourself as a well-rounded person with a passion for design and the rest will be easy.