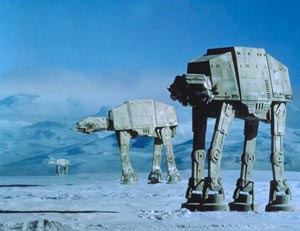 One of the most memorable cinematic moments of my childhood was the planet Hoth battle scene in The Empire Strikes Back. The Empire has finally found the hidden Rebel base and has launched an offensive with their mighty AT-ATs. The Rebels launch their small fleet of snow speeders in response. Watching the movie in that moment, I had confidence the Rebels would win, but I had no idea how. I remember thinking the Empire can't win this one, they just can't. And then Luke comes up with the brilliant idea of hog-tying the AT-ATs with the harpoon tether. The AT-ATs met their smashed and snowy demise, one by one, and kids like me hooted and cheered the simple mechanics used to exploit such a critical flaw.
Today's offerings of web-based services are much like those devoted little snow speeders, skimming across the icy landscape, determined to defeat the encumbered behemoths. The powerful and slow moving quadrupeds (think Microsoft) march onward in their efforts to assimilate the corporate world. We've found their weakness and have launched our counter-attack, and now we see small businesses embracing web-based services.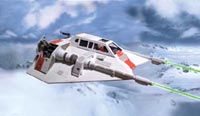 Instead of snow speeders and harpoons, we have unmatched practices and ideologies. We have agile development and intelligent frameworks, the equivalent of flying under the radar, safe from the cannons, launching updates quickly and often. And we have a simple philosophy: keep things simple and targeted. We can't be all things to all people, but we can be all things to the people like us, the people with our shared experience.