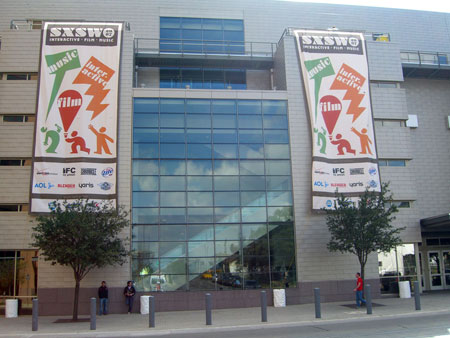 I am currently at SXSW on the Interactive path. It is the first time I've attended SXSW and it feels like a great event for creative people to get together. The fact that it's called a "festival" instead of a conference or seminar says a lot. It is a very open and free style environment where you get to mix with industry peers and catch a new idea or two over a few beverages. For those that don't know anything about SXSW it has three distinct areas of interest:
I am here with an "Interactive" badge only since it's a quick trip. The panels and discussion areas cover a wide range of web related topics in the Interactive section. Here is a list of the Interactive panel schedule.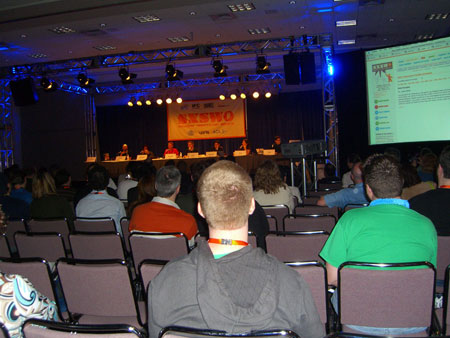 I plan on attending these panels:
Writing, Better
The session investigates what makes for good writing — and what the future might hold for the written word in a world that is being inundated with podcasts and video.
Getting to Consistency: Don't Make Your Users Think
Making software predictable and consistent makes it much easier to use. This session will explain UI consistency and point out examples of failures and their consequences.
Your Web Application as a Text Adventure
If your web application can't easily be adapted as a classic text adventure, your application has serious problems on multiple levels. Applications that can't be easily adapted likely suffer from application structure and design problems, UI dependency, to organizational politics and bad decisions. Applications with open APIs, simple information organization, built in the spirit of sharing make great text adventures, and not coincidentally, are usually very successful as web application.
Web 2.0 / 3.0 ArtsEntrepreneurship.com: Make Your Passion Your Profession
Don't need no VC when you've got a PC." Not only has technology revolutionized the production and distribution of content, but it has also allowed indie creators to bypass traditional lawyers/MBAstodefine the rights fortheir creations and reap maximum profits. The Constitutionstates thatcreators own their creations–so now what's the best way for creators to share, sell, and profit? From Open Source CMS to online incorporation to web 2.0/3.0 to the registering of patents, trademarks, and copyrights, this is a panel for the indie creator.
High Class and Low Class Web Design
Elite web designers are baffled by the success of seemingly "undesigned" sites like Google, Craigslist, and eBay. Usability experts explain the success of such sites as a triumph of function over style, others claim that a good business model always beats good design. This panel will investigate a third possibility: Just as Apple, BMW, and The New York Times market high-end products to elite customers,Wal-Mart, Fox News, and World Wrestling Entertainment target their working-class customers very… differently. Is there a design class system?
Accessibility Wars: A Report From the Trenches
The development of WCAG 2.0 has been contentious. Some in the accessibility field are not pleased. There is even a call for an invitation-only group outside of W3C to develop WCAG 1.0 extensions. Which criticisms have sound basis, and which are based on misinformation? How is W3C WAI addressing the input it has received on WCAG 2.0 Working Drafts? A frank and open discussion of the state of accessibility standards.
Design Workflows at Work: How Top Designers Work Their Magic
Have you ever wondered how the top designers work their magic? What is their workflow? What tools and techniques work best for them as they create compelling and inspiring designs. Find out the workflows that work best in today's fast paced environments. Get tips and best practices as true 'Design Superheroes' share their craft.
It's a great range of topics and I'm only here Friday through Sunday. The Interactive Panel runs through Tuesday. Next year we may make it a company wide trip for the whole span of days…
– Michael