Isn't Intervals supposed to be in Beta by now?
Well, yes and no. According to our official release plan we're still on target for a "First Quarter 2006" Beta. Our over zealous Product Manager Michael Payne may have sent a few emails in early December and said something about "5 – 6 weeks away" (which was like 3 weeks ago). OK, it's Michael writing this, I got a little over excited….my bad. We've had a few beta testers asking when it will be ready so I wanted to give everyone an update. We're scheduled to officially open up the Beta late February.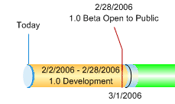 What's the latest development news?
We're excited and anxious to get through this last bit of Beta development. The few folks who have received a sneak peak, have validated what we are doing with Intervals and we're anxious to get others involved. The AJAX timer seems to be a popular feature. Thank you for your patience, we're getting close.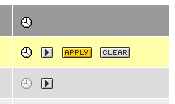 If I haven't signed up yet, can I still participate in the Beta program?
Definitely. If you haven't filled out the Beta application yet, please apply here.