Intervals :: Web based Task & Time Management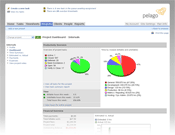 What's the latest?
We are actively recruiting folks to participate in our Beta program. Since Intervals is "industry generic", we decided to recruit a few companies to help us battle test and tune Intervals. 
How will the Beta program work?
The Beta program will begin the first quarter of 2006 (which is 44 days away – crazy). The program is limited to the first 50 qualified companies. We are looking to build a lasting relationship with our early adopters. Our Beta program participants get to use Intervals free for 3 months then 50% off for the next 9 months (1 year of Intervals use at a deep discount).
If you are looking for a 100% web-based system to help you track where your time is going and how long tasks are taking, we invite you to apply for the Intervals beta program. (Update: beta program closed in April 2006)
Example Uses
Web Design & Web Development 
Freelancers 
IT Service Companies 
Creative Firms 
Department of a Larger Company
Companies that rely on Subcontractors